Handelsblatt ranking "Best Lawyers 2022": Kantenwein once again receives prestigious awards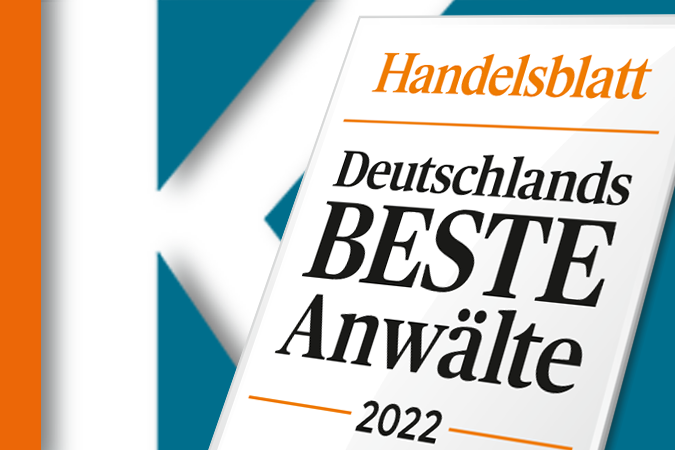 Kantenwein can once again take pleasure in a plethora of awards in the highly acclaimed 2022 Handelsblatt "Best Lawyers" ranking. The renowned business and financial newspaper is publishing the ranking for the 14th time in cooperation with US publishers Best Lawyers.
In this year's "Germany's Best Lawyers" awards, Kantenwein has again been distinguished several times. What's more, our colleague, Dr Annett Kuhli-Spatscheck, was selected as "Lawyer of the Year 2022" in the "International Arbitration" category. Lisa Maria Oettig receives the special award "Lawyers of the Future 2022" in the "Conflict Resolution" category, which was presented for the first time last year. This category considers younger colleagues, with three to eight years of experience in practice, who have already acquired "an exceptional reputation".
Many of our colleagues once again received awards in the "Best Lawyers" category. They are: Marcus van Bevern, Sven Ceranowski, Dr Stefan Hackel, Dr Thomas Kantenwein, Nico Köppel, Dr Alexander Kröck, Dr Annett Kuhli-Spatscheck, Dr Carolin Sabel, Dr Rainer Spatscheck, Dr Gerhard Widmayer and Franz Zimmermann. We congratulate Kirsten Fox, Stephanie Schmidt and Lea Wimmer on receiving awards for the first time.
The rankings are based on an extensive peer-to-peer evaluation process involving business lawyers, carried out by the publisher Best Lawyers. You can find out more about this year's awards under "References".