Cum-ex: White paper examines recourse scenarios and the risk of double penalisation and over-compensation of damages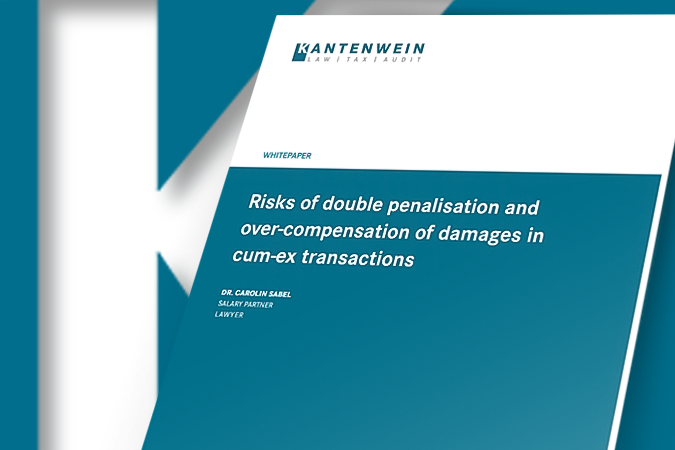 New problems and complex issues
Cum-ex trading has been the subject of public discussion for many years. However, it has long been unclear whether and how parties to cum-ex trades expose themselves to criminal liability and how possible tax recourse scenarios are handled between the various parties. This uncertainty has caused many potential participants to consider, firstly, the type of risks of being subject to claims and, secondly, how such risks can be passed on. In view of the scope of many cum-ex trades and the interest that has since accrued, the risks involved are often substantial, if not financially existential. The tension is palpable, many questions are unresolved.
German Federal Court of Justice: Cum-ex trading is criminally punishable
As is so often the case, while the public may consider the issue to be unambiguous, the situation is nuanced in legal terms. Even the unequivocal conclusion by the media that the matter involves tax evasion was not confirmed at the highest judicial level until the summer of 2021, when on Wednesday the German Federal Court of Justice (BGH) in Karlsruhe ruled that cum-ex stock trading is to be considered tax evasion and is thus criminally punishable. The court held that this is not only consistent with the sense of justice but also results directly from the law (Az. 1 StR 519/20).
Risks of cum-ex trading: Double penalisation and over-compensation
This judgment marks just one high point in the treatment of cum-ex issues by the courts. The public first learned more than 10 years ago about the wide-ranging activities of financial operators and other investors in relation to cum-ex trading and its tax impact, and since then, the analysis of "cum-ex" by academics and judicial authorities has gained increasing momentum. There are now a variety of publications and several court decisions, inter alia, concerning the criminal liability of participants for tax evasion and the confiscation of earnings reaped from the crime1, concerning the offsetting of capital gains tax in violation of tax law2, and concerning civil recourse among the participants3.
To date, less examination has been devoted to the concurrence of different claims under criminal law, tax law and civil law. In particular, there is a risk here of penalising a participant twice and of over-compensating for the damage to the state. This complex set of circumstances is the subject of the white paper by Dr Carolin Sabel, which is based on a comprehensive current publication by the author in collaboration with Dr Carsten Kusche on the same topic.
The article posits that if asset recovery is undertaken through confiscation or fines under the law governing regulatory offences, the applicable law cannot sufficiently avoid double penalisation and over-compensation of damages. In the case where several parties to a cum-ex trade are jointly and severally liable for tax owed to the revenue office as the injured party of the offence that is the basis for asset recovery, there are no statutory rules that prevent asset recovery from being enforced against one party and tax liability against another and the target of the recovery from subsequently being penalised, in addition to asset recovery, also indirectly with tax liability as a result of recourse among joint and several debtors exercised by the joint and several debtor against whom the claim is made.
This result is not compatible with the purpose of asset recovery. It should therefore be avoided, on the one hand, through the mitigating consideration of third-party claims, including those that have not become final and binding, in connection with setting the amount of the recovery under the law of regulatory offences and, on the other, through the doubly analogous application of section 99 (2) of the German Act on Regulatory Offences (OWiG) also to cases in which a claim is made against the target of the recovery not by the injured party but instead by a third party.
You can find an overview of the resulting claims and considerations on how to handle this risk in the white paper by Dr Carolin Sabel, which you can download here:
1Federal Court of Justice (BGH), judgment of 28 July 2021 – 1 StR 519/20.
2Federal Fiscal Court (BFH), judgment of 16 April 2014 - I R 2/12; Fiscal Court (FG) of Hessen, judgment of 10 February 2016 – 4 K 1684/14, judgment of 10 March 2017 - 4 K 977/14, order of 6 April 2021 - 4 V 723/20.
3Regional Court (LG) of Frankfurt a.M., judgment of 23 September 2020 - 2/18 O 386/18; Higher Regional Court (OLG) of Frankfurt a.M., judgment of 2 July 2020 - 1 U 111/18.

Dr Carolin Sabel is a Salary Partner at Kantenwein in Munich and primarily handles issues in the field of commercial dispute resolution. She has recently dealt with a variety of issues concerning the legal evaluation of cum-ex trading in a series of civil- and tax-law cases. These include, in particular, issues concerning the apportioning of liability between various parties to a cum-ex trade, as well as overarching observations in connection with allocation of responsibility for damages.
Your questions concerning recourse scenarios and potential cum-ex double penalisation
If you are interested in obtaining advice on this topic, Dr Carolin Sabel and Dr Alexander Kröck will be pleased to assist you as contact persons. With respect to criminal tax matters, please contact Dr Rainer Spatscheck.